The Future of Education – during and after COVID-19
October 8, 2020 @ 4:00 pm

-

5:00 pm

EAT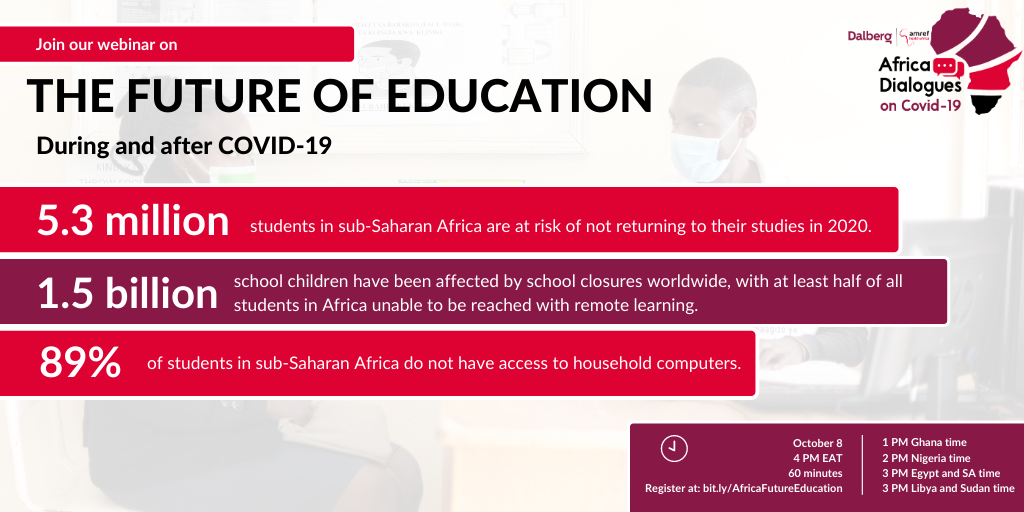 After a near global shutdown of the education sector due to the COVID-19 pandemic, countries around the world are beginning to reopen their schools. At the height of nationwide and local lockdowns, 1.53 billion learners, including 300 million African students, were out of school across primary, secondary and tertiary education levels, impacting 87.6% of the world's total enrolled learners.
In a bid to mitigate the short and longer-term impacts of school closures, and to ensure continued learning, many countries have adopted distance learning mechanisms. The results, however, are far from optimal. One of the main challenges is that distance learning courses are not accessible to the majority of the learners, mainly due to children living in remote or rural areas without access to devices, data and power. Additionally, as demonstrated in a recent study conducted by Human Rights Watch, the impact of COVID-19 on children's education in Africa shows that school closures caused by the pandemic exacerbating existing inequalities. Children, particularly girls, who were already at risk of being excluded from a quality education, have been most affected.
The upcoming Africa Dialogues webinar on 8 October will focus on the impact of COVID-19 on education across the continent. Dalberg Advisors and Amref Health Africa will host Prof. Aiah Gbakima (Minister of Technical and Higher Education, Sierra Leone), Dr. James Mwangi (Group Managing Director and CEO, Equity Group Holdings Plc.), Uzodinma Iweala (CEO, The Africa Center) and Amini Kajunju (Executive Director, IUGB Foundation) to discuss the implications of the disruption in education for African youth due to COVID-19 and what must be done to address these implications, both during and after the pandemic.
Register for the webinar here.
Please submit your questions ahead of the call at [email protected] or [email protected] For any other inquiries, do not hesitate to reach out using the same contacts.
Visit the Amref's Resource Center and Dalberg website for additional information.