The Intersections of health, social and economic recovery
October 21 @ 3:00 pm

-

4:30 pm

EAT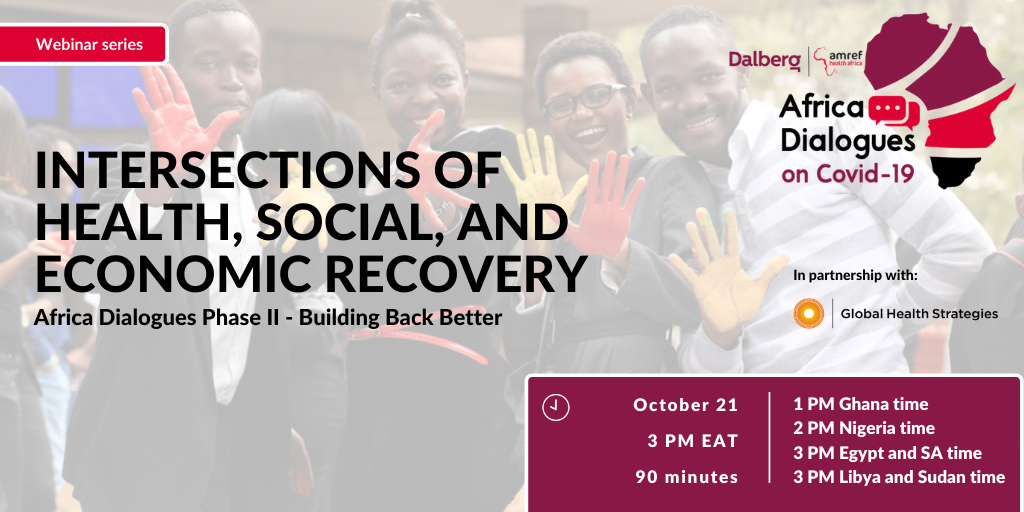 The COVID-19 pandemic has affected all facets of life, altering the fabric of society and forcing us to reevaluate how we live, work, learn and interact. Almost two years since the first COVID-19 case was reported, its socio-economic impact continues to be felt across the continent, which is still reeling from the effects of school closures, movement restrictions and depressed economic activity. These have in turn had widespread negative consequences that have put vulnerable groups such as women, girls and the poor at even greater risk from exacerbated education inequality, loss of income, and increased food insecurity.
Africa Dialogues – Phase II kicks off on 21 October 2021. This series of webinars will focus on building back better – rebuilding and strengthening health systems in Africa during and beyond the pandemic, to protect populations from future emergencies and deliver quality, affordable health care to all.
In navigating the pandemic, African countries have had to learn crucial lessons on the intersection between health, policy and governance, social development and economic growth, and their implications on the continent's growth and development in the coming years. Among these lessons is the critical role that vaccines play in protecting populations, a lesson that has been made even more clear during the COVID-19 pandemic. While wealthier nations have been able to vaccinate a significant percentage of their populations, African countries to struggle to acquire and administer vaccines.
During this webinar, speakers will:
Explore the interconnections between the health, social and economic sectors in Africa, and their importance for growth and development.
Identify the effects of COVID-19 across the health, social, and economic sectors – particularly in the context of Social Determinants of Health – and share learnings from navigating these challenges during the pandemic.
Highlight the role of vaccines as a tool for recovery and growth and identify the challenges and opportunities for African countries seeking to procure vaccines. Discuss strategies to 'build back better' across the health, social, and economic sectors, and map paths of action to build resilience and accelerate recovery.
 This webinar will bring together African leaders and opinion shapers to discuss strategies for inclusive and sustained pandemic recovery. Dialogue will focus on multi-stakeholder action and collaboration towards rebuilding and strengthening health systems in Africa during and after the pandemic, vaccines as a tool for recovery, and mitigation of poverty and economic vulnerability through social protection for all.
Register for the webinar here.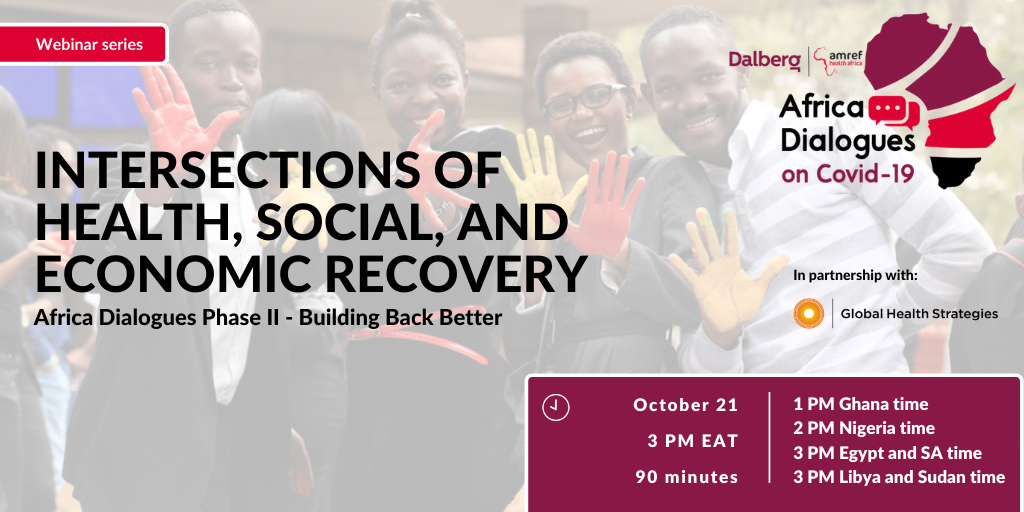 Please submit your questions ahead of the call at [email protected] or [email protected] For any other inquiries, do not hesitate to reach out using the same contacts.
Visit the Amref's Resource Center and Dalberg website for additional information.